Hey guys, in this post will learn about how to create a User in JIRA.
An administrator can create users and invite them to participate in the project issues. A normal user cannot create another user due to access rights limitations.
Pre-requisite : If you don't have a JIRA account create one here Create JIRA account.
Step 1 : Click Administration Settings icon on the top right and Select User Administration option in the list.
Step 2 : In the Create new Users screen,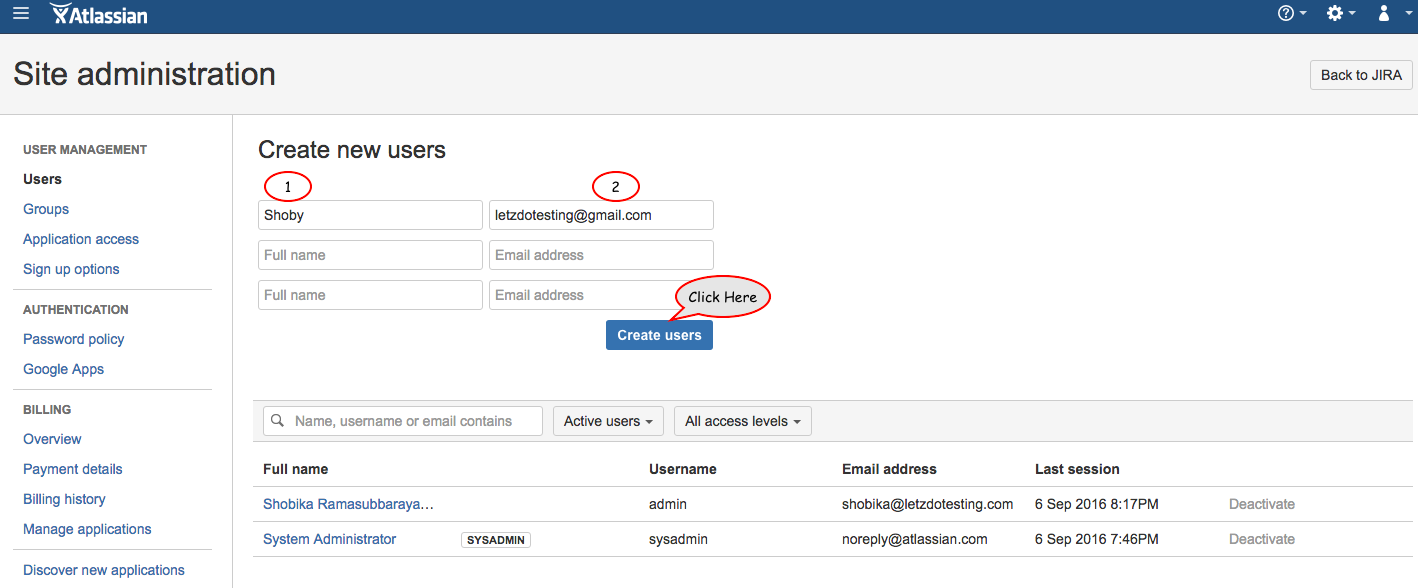 Enter Full Name
Enter Email Address
Once entered all information, Click Create Users button
Step 3 : User created successfully
Email has been sent to user's email address like below,
The user has to set up a new password to have JIRA account.
Step 4 : Once the user has accepted the invitation, set up their account with a password and logged in for the first time, the administrator can view the last session date and time.
Step 5 : Administrator can deactivate the user by clicking Deactivate option
Step 6 : Click on the User's Full name to view detailed information about the User.
Step 7 : Edit or delete User by clicking Edit or Deactivate User
Step 8 : Click Add Group to add the User to a group.
Step 9 : Start typing the group name and select the group from the list and Click Add group button
Step 10 : User added to the group successfully.
Once the user is added to the project, User can work on the issues.
In my next post, will learn about how to create a Issue type in JIRA.
Have you tried JIRA?  Share your experience in the comments below.
Know anyone who would like to learn JIRA for enhancing their skills?  Let them know by sharing this article on Facebook, Twitter, or Google Plus.