Hey guys, in this post will learn about how to use filters in MantisBT.
Filters are used to easily search and group the issues from the huge list.
Pre-requisite : Install MantisBT
Suggested Readings : How to create a Project in MantisBT, How to create an Issue in MantisBT
Step 1 : Click View Issues

Step 2 : To filter issues based on project, Click Project drop-down

Step 3 : Click Search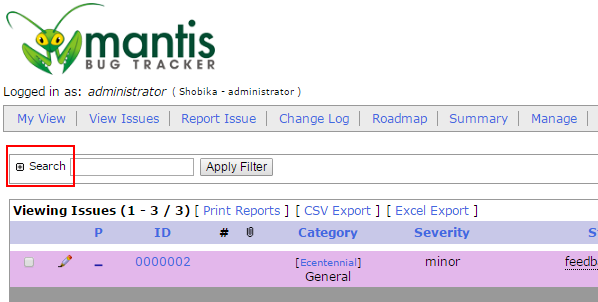 Step 4 : Choose filter criteria and click Apply Filter
Step 5 : Issue filtered based on Status
Step 6 : To save the current filter, Click Save Current Filter
Step 7 : In the next screen,
Enter Filter Name
Select the Project option
Click Save Current Filter
Step 8 : Filter saved successfully
Step 9 : Select the saved filter and Click Manage Filter to Delete filter and Manage filter
Step 10 : Click Delete filter to delete the saved filter
Step 11 : Click Create permalink
Note : Permalink is used to create permanent link for the configured filter so that it can be shared with team through email.

Step 13 : Permanent link created successfully
Now you know how to use filters in MantisBT ?
Suggested Readings : JIRA Tutorials for Beginners
Know anyone who would like to learn MantisBT?  Let them know by sharing this article on Facebook, Twitter, Pinterest or Google Plus.