Hey guys, in this post will learn about how to create an Issue type in JIRA.
JIRA software has set of pre-defined Issue types to get started with. We can also create our own custom Issue types based on our project needs and add them to the Issue type scheme of the project.
Pre-requisite : If you don't have a JIRA account create one here Create JIRA account.
Suggested Readings : How to create a Project in JIRA
Step 1 : Click Administration Settings icon on the top right and Select Issues option in the list.

Step 2 : In the next screen, Click Add Issue type in the top right.
Step 3 : In the next window,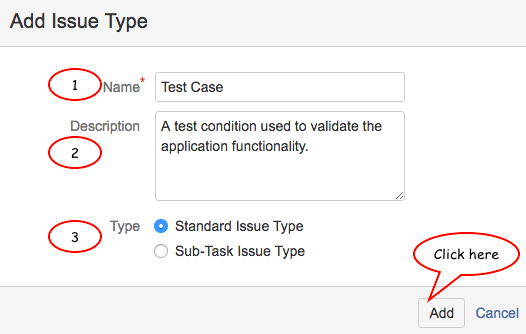 Enter Issue type Name
Enter Description for the Issue type
Select the Type
Once all the information is entered, Click Add to create an Issue type.
Step 4 : New Issue type created successfully.
Note : Newly created Issue types will be automatically added to Default Issue scheme. You can add them to your project specific scheme if you wanted to.
Step 5 : Edit or delete Issue type by clicking Edit or Delete option
Once you have added Issue types, you can associate them with the project using Issue type scheme.
In my next post, will learn about how to work with Issue type scheme in JIRA.